 Notes
---
This price is per user for this app.
---
For more information about the product CONTACT US
Personal 
to-do lists
Achieve your goals and objectives easier than ever.
Get organized with efficient to-do lists and notes. From personal tasks to collaborative meeting minutes, increase the productivity of your employees by giving them the right tools to prioritize their work, share their ideas and collaborate on documents.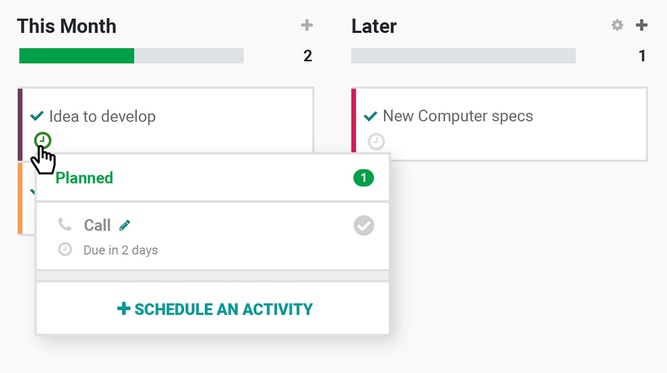 Boost

 your productivity
Better manage your tasks and projects.
Create an online to-do list in your desired format. Quickly create to-dos, organize horizontally for the mid-term (today, this week, this month,..), prioritize vertically for the short term and group your items by assigning specific colors to specific tasks. The kanban view gives you a simple visual organization of what needs to be done and helps you to move forward to the next step.
Build your to-do list
Create stages
Break down your to-do list into stages which will be converted to columns into your dashboard.
Kanban view
Drag and drop notes easily from one stage to another in the kanban view.
Create notes
Add notes to your stages. Each note correspond to a mini-project that you will move from one stage to another as your project moves forward. 
---
Organize your notes
Text layout
Insert text styles like headers, bold, italic, lists and fonts with a simple WYSIWYG editor.
File attachments
Attach text files, image files document files to your notes.
Tags
Add tags to your notes for a clear organization.
Filters and groups
Search notes easily with smart filters.
Colors
Group your notes by color as a way to categorize your tasks. There are 9 colors to choose from and a colorless option.
Import
Upload any text file or document to your notes.
Export
Export notes as HTML, plain text or DocuWiki text documents.
---
Collaborate
Invite people
Add coworkers to your notes so they can follow the discussions and receive notifications.
Authorship color
Every author typing some text in a note has a different background color to show who wrote what. You can link a name to a color.
Timeline slider
See the history of changes made to a note through a timeline, from first to last sentence.
Share
Easily share your notes with your colleagues by sending them as link or embed URL.
Access settings
Choose what others can do with your notes by granting viewing or editing access.
Chat
Enable chat for real time discussion with the people following your notes.
Show connected users
See who is connected to your notes right now